Ampez Rehab Investments was created in 2008 and in the beginning was self-funded. With a Team that is skilled, ambitious, and has vast experience Ampez has steadily expanded and now partners with investors to complete projects. We take pride in the fact that all projects that we have been involved with have been a success and have sold.

Ampez Rehab Investment holds to the strategy of buying and selling quickly. This allows us to flex to current market conditions and always remain profitable. All projects are located in the Fresno area. This region is very conducive to the strategy we hold. As well, Ampez does not create profit by investing with other companies. We do not broker or facilitate deals outside our company. We do the work and manage the process from start to finish. When you invest with us, you are investing in us.

Our strategy is simple. We have been repeating and refining the way we create profit for years now with success. It is our belief that one should be able to easily articulate what there money is doing and how their money is generating profit. Ampez pays 14% interest. No gimmicks. No fees. Simple and transparent.

Homes are being modernized, neighborhoods are being strengthened, and profitable investments are being made. Ampez now allows a limited number of investors to place funds with Ampez and see their investment grow. If you are looking for a secure place to diversify your portfolio and earn better than average returns you have found it.


Ampez invests in single family residences that are in distress, have been foreclosed on, or can purchased at deep discount.  These properties are purchased at a minimum of 50-60% below market value. Ampez buys properties that are appealing to first time home buyers. We call them entry level homes. Typically theses houses can be sold at or below the median house price in the area.

These properties are repaired and updated to exceed current energy standards and appeal to modern tastes. In current market conditions this model of buying moves fast and has a substantial profit margin. Ampez investments holds to the strategy of buying, repairing, and selling very quickly. This allows us to adapt to any market condition.

Projects are purchased with current market conditions in mind.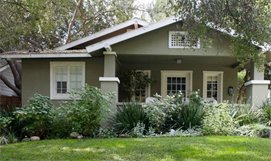 <Preserve Capital

<Generate Profit

<Be Trustworthy  

T - 559.797.1889     investing@ampezfund.com

Ampez Rehab Investments LLC

8050 N Palm #300 Fresno,CA 93711

559.320.5968